Our FauxFire® Campfire uses theatrical smoke and LED lighting to create the look of real campfire flames and is designed for use in temporary applications such as trade shows, special events, haunted houses, concerts and theatrical presentations. For more permanent applications, we recommend the steam version of our FauxFire® Campfire.
| | | | |
| --- | --- | --- | --- |
| | Indoor | ◉ | Designed for Indoor Use with proper Lighting and Environmental Conditions. |
| | Outdoor (Night) | ▬ | Can work Outside at Night with controlled Wind and Lighting Conditions. |
| | Outdoor (Day) | ✖ | Will NOT work Outside in Daylight. |
The most realistic simulated campfire on the market
Can be purchased with or without scenic rock cladding
Can be used wherever real fire is not an option
Completely self-contained Flame height 6 -12 inches (15.2 – 30.4cm)
360 degrees of viewing Completely safe to touch
Easy to operate and very low maintenance
Includes long life LED lighting
Optional Audio and Scent Systems
Best if used indoors and under controlled lighting
Smoke Version
DMX input for smoke machine (flame height)
Smoke version includes theatrical smoke machine
Power – 1 – 110VAC 15A circuit
Steam Version
Requires Steam Supply (Contact us about providing a boiler or using your facility supply)
Power – 1 – 110VAC 10A circuit
Steam Inlet Size – 3/8" NPT
Drain Outlet Size – 3/8" Barbed
Steam Consumption – 25 lb/hr
Drain Output – 1 gal/hr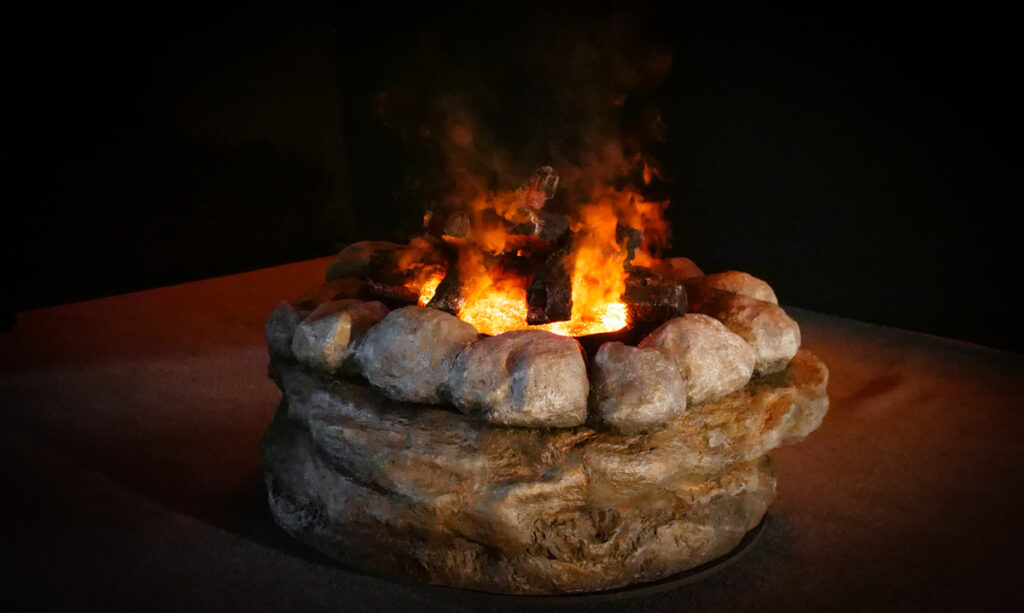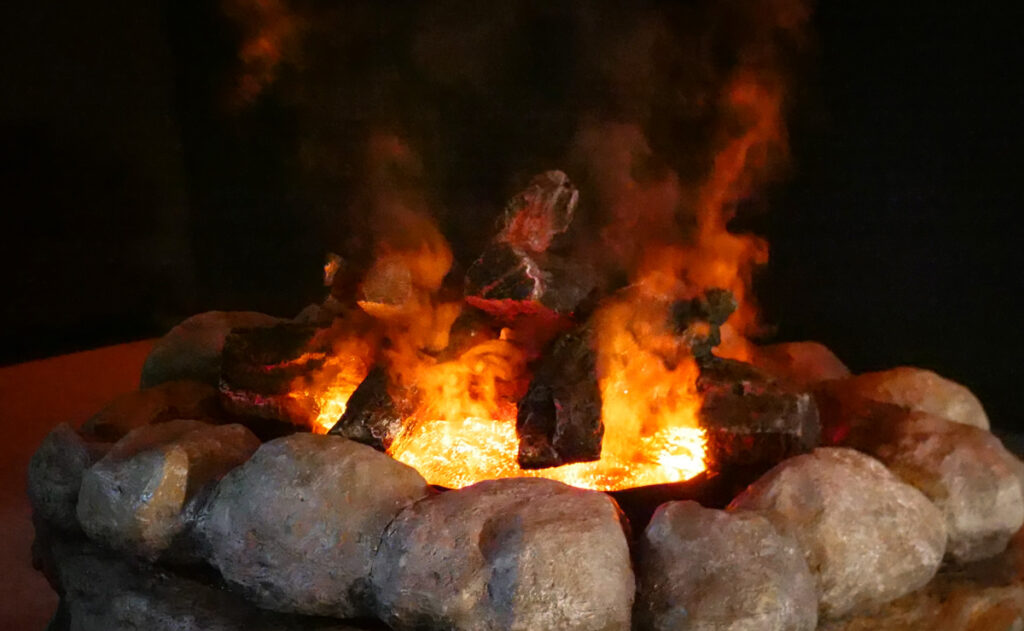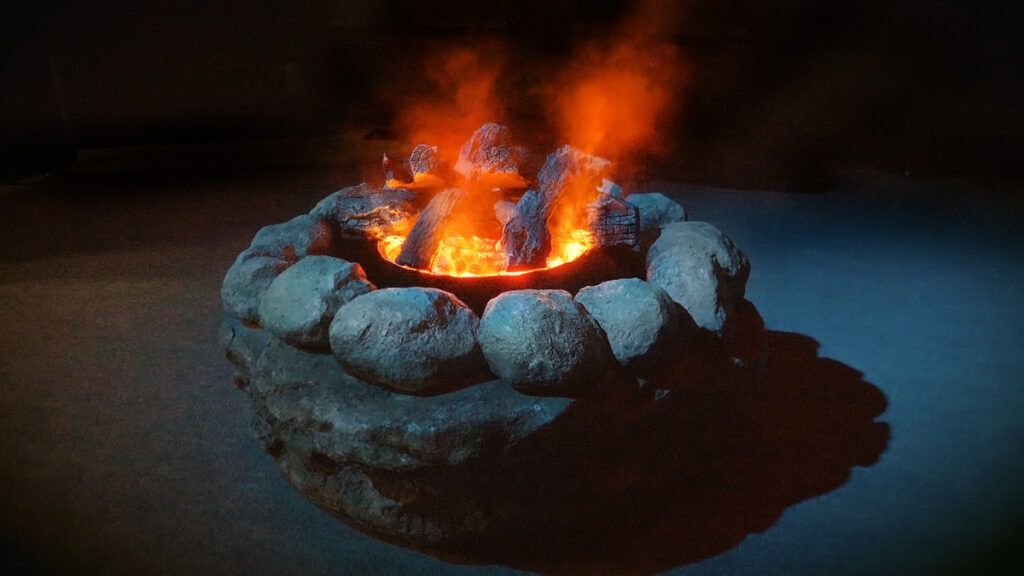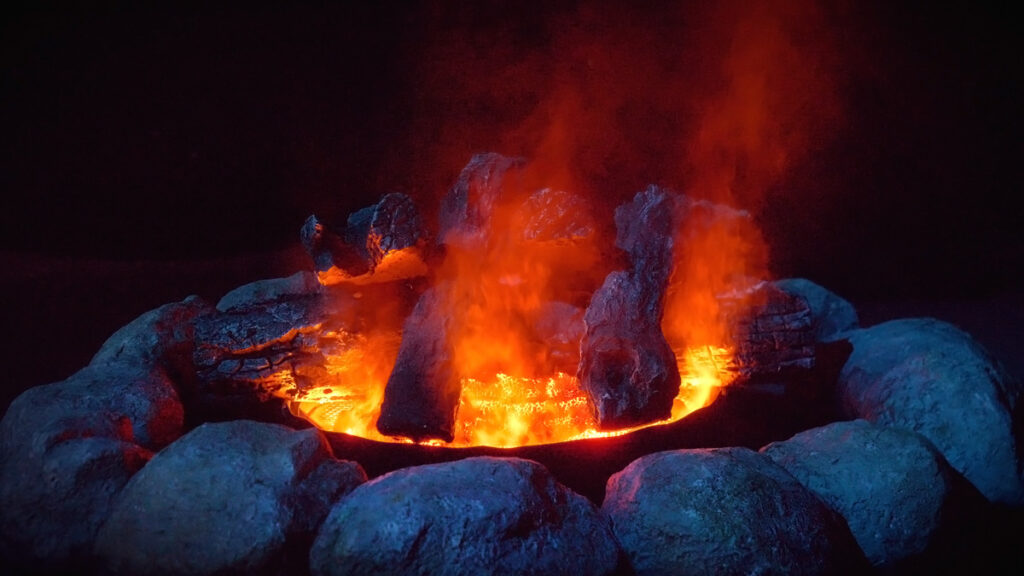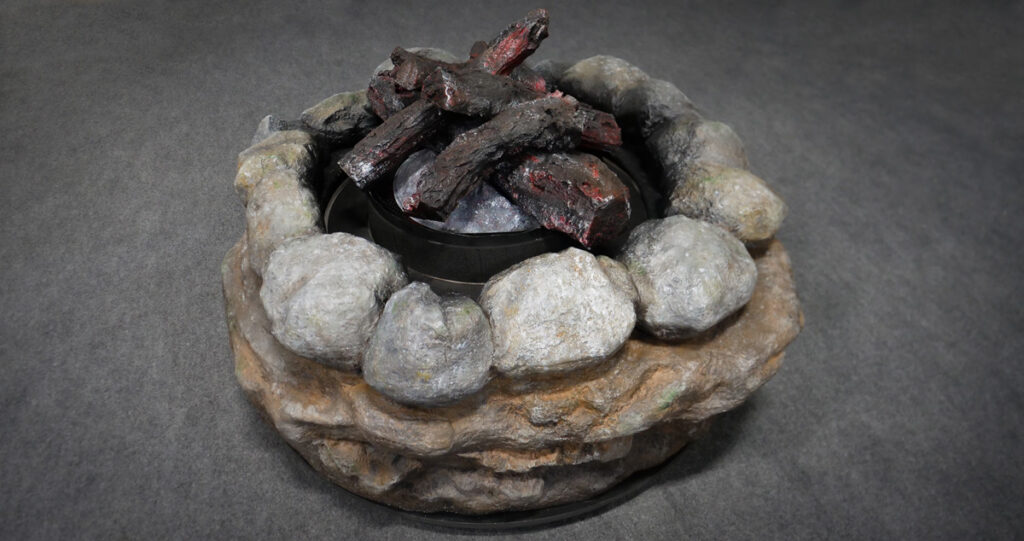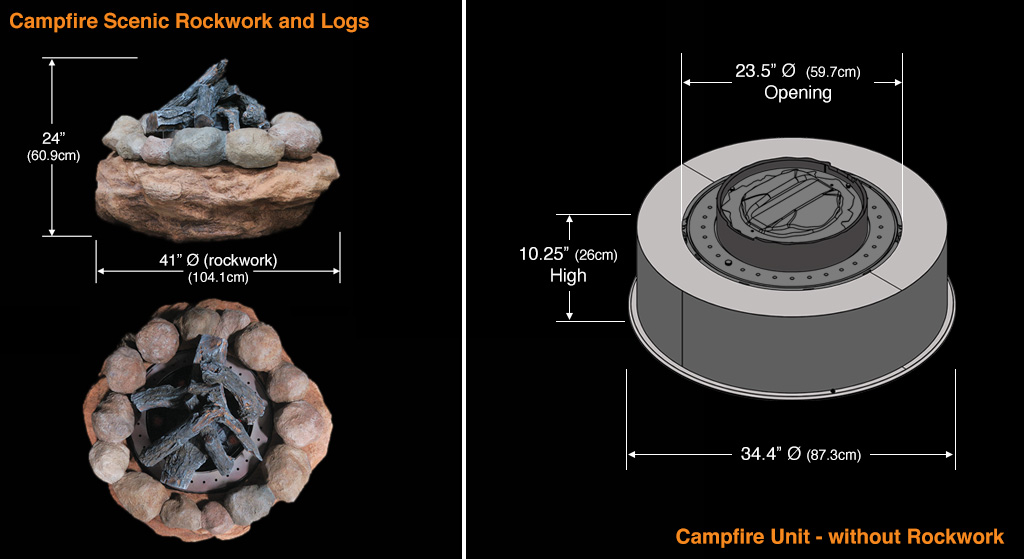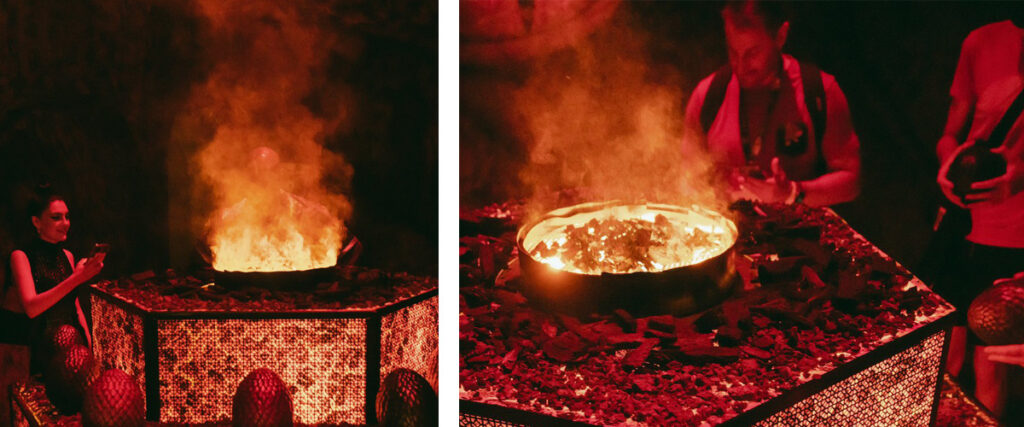 Pricing
Rental Pricing (Smoke Unit Only)

Campfire Unit: rents for $750 / show day*
(example: a Campfire unit rental for a three day show/event will cost $2,250.00 )
*Rental Prices subject to change

Shipping Cost to be determined when quantity and destination are known.
Does not include cost of consumables (Smoke Fluid).


Minimum Rental Period

There is a two (2) Show Day minimum rental* for each unit rented. You will not be charged for set-up days or transit days unless the transit exceeds a cumulative total (inbound and outbound) of more than eight days. If the cumulative total exceeds eight days, Technifex reserves the right to charge the daily rental fee for each unit, unless prior arrangements are made and agreed to by Technifex.
* 1 Show Day Rental = only in the greater Los Angeles Area
Video
Specifications
Weights:

110 lbs. (With scenic rockwork)
80 lbs. (Without scenic rockwork)
150 lbs. (In roadcase for shipping)
Smoke Requirements:

This effect consumes 2.5 liters of smoke fluid roughly every 8 hours.
It holds a maximum of 18.5 liters (clean fluid)
It contains a tank that catches any residual (dirty) smoke fluid. It is 4 liters and must be emptied before every refilling
Campfire FAQ
What is FauxFire Campfire?

Technifex Products patented FauxFire® Campfire System (smoke) is designed to produce a realistic simulation of flames, using smoke generated from an internal smoke machine, coupled with unique animation and lighting devices.
The effect comprises three main elements:
A special manifold designed to produce a thin, steady curtain of rising smoke.
Animation blowers directed at the curtain to produce flame-like turbulence in the steam
LED lights provide coloration of the "flame" effect
FauxFire appliances work optimally when they are adjusted to produce "flames" at a maximum height of 6" – 12". The effect may be adjusted to lower levels, if appropriate for the venue.
How large is the equipment?

32" in diameter (narrowest point), 41" in diameter (widest point)
24" high
Does the equipment require any facility inputs?

The Smoke Campfire only requires one 110VAC 15A circuit to operate.
Are there equipment options available?

Equipment options for FauxFire are as follows:

Scenic rock cladding
Crackling campfire sounds with speaker
Optional smoke scent to add realism
What is generally required to operate FauxFire® Campfire?

As mentioned, a single 110VAC circuit is required
Quick dissapating smoke fluid from Look Solutions is needed to fuel the smoke machine
A tank that collects the residual smoke fluid buildup will need to be emptied regularly using the included battery-powered wand pump.
Is a warranty provided for FauxFire® equipment?

Technifex Products provides a conditional one-year warranty on FauxFire equipment.