These products are currently not available. Please Contact Us for more information.
Slide Lites™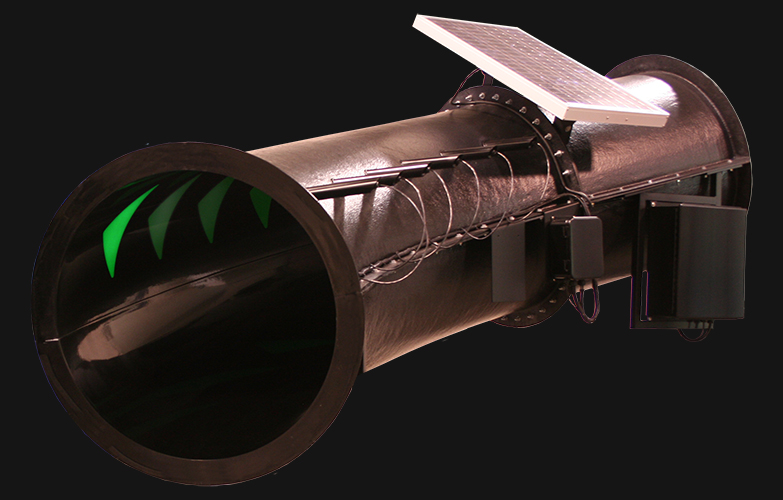 Slide Lites™ is the latest innovation in water park safety and entertainment technology from Technifex Products. Using safe, long-lasting UV LED's, Slide Lites add visual punch and animation to your water slides, while also helping riders anticipate sharp turns and curves inside dark slide tubes. Customizable, fluorescent adhesive art glows and pulses when illuminated by our UV LED lighting system. Slide Lites provide a cost-effective way to add story, brand, safety and great fun to the water slide experience.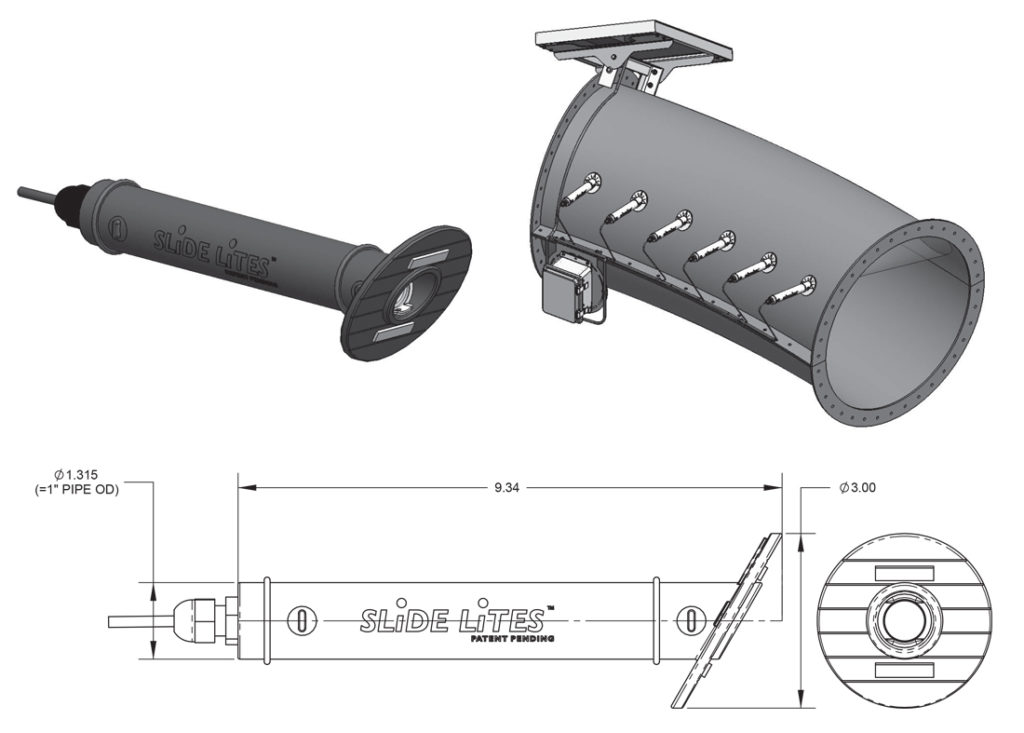 Slide Lites™ Installation Kit (25 Slide Lites)
Provided:
(1) Installation Manual & Service Manual
(25) Slide Lites w/ 11-foot cords (24 units plus 1 spare)
(1) Control Box (Includes battery system if solar panel option is ordered)
(3) J-boxes with sequencers (run up to 8 Slide Lites each)
(25) Vinyl Chevrons (adhesive back UV artwork)
(2) Spare Chevrons (adhesive back UV artwork)
(25) P-clamps with Hardware (8-32 x 9/16″ 18-855 Screws, Nuts and Washers)
(1) Horizontal Line Scribe Tool
(1) Tube 3M 4000 UV Adhesive
(1) Indicator Tool (for clocking each Slide Lite)
(30) 4″ x 4″ Clear adhesive back vinyl squares
(30) 2″ x 2″ Mylar squares
Vinyl Squeegee (for adhering vinyl squares)
Vinyl Locator Tape (For precise spacing of Slide Lites on slide tube)
Stainless brackets (for mounting control and sequencer j-boxes)
(24) 1/4-20 x 1 1/4″ Long SHCS with Nuts and Washers (for mounting sequencer and control boxes
Not Provided (Installation tools):
Low Voltage wire (for runs between j-boxes and control box)
1 5/8″ Hole saw with 1/4″ pilot drill bit
1/8″ drill bit
16″ Flexible Scale
Tape Measure
2″ Sanding Pads (80grit)
Electric Drill Motor
Spray Bottle with Soap
3/4″ and 2″ Blue Masking Tape (Painters or Low Tack)
Phillips #2 Screwdriver
11/32″ Socket Wrench
Wire Strippers
Allen Wrench (set)
Small Tweaker Screwdriver
Aquashot®

Aquashot® water cannons are easy to use and a BLAST of fun.
Shoot at people on a lazy river or create a war-zone attack area where guests can blast a shot of water up to 90-feet to harmlessly disperse over the crowd. Aquashot will keep firing long after standard plastic water shooters. Made of non-corrosive, durable stainless steel and brass components, Aquashot water cannons are designed to last with minimal maintenance required between seasons. With safety in mind, Technifex designed the Aquashot with an adjustable pivot stops to limit the horizontal and vertical firing range. Comfortable handle and trigger assembly easy for both children and adults to operate. Requires only compressed air and water to operate.
Facility requirements:
Continuous water flow up to 40 GPM
Air Supply @120 psi max. 7-25 SCFM depending on cycle time
Dry compressed air is recommended
Requires secure mounting (4-inch thick reinforced concrete slab recommended)
A 15-foot free safety zone is required in front of the Aquashot®
Non-slip tread surfaces recommended around each Aquashot® location
Cannon specifications:
Weight: 250 lbs
Cannon dimensions: L 44″ x W 20″ x H 70″
Base plate dimensions: 16″ x 16″
Shoots up to 1.5 U.S. gallons per shot
Air pressure required: 60 -120 psi
Horizontal travel: 0 -120 degrees
Vertical travel: 25 – 45 degrees

Wind Cannon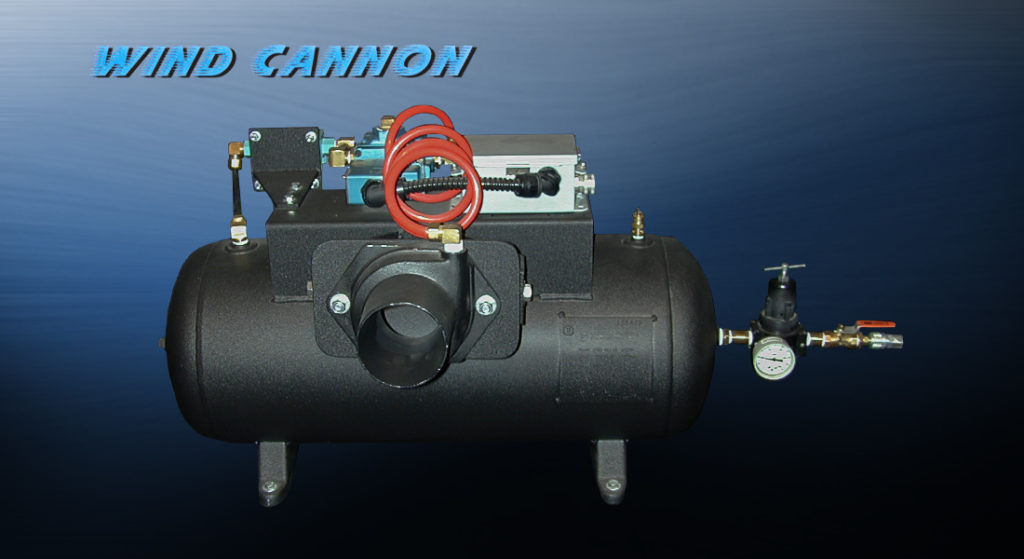 The Technifex Wind Cannon is the perfect addition to any exhibit or attraction that requires a blast of air to enhance the guest experience.
INDUSTRIAL DESIGN: The Technifex Wind Cannon has been designed with the demanding show requirements prevalent within the amusement park and exhibition industries in mind. The industrial grade components and lack of moving parts make the Wind Cannon ideal for use in dark rides, shooting galleries, museums, miniature golf courses and other themed attractions.
VERSATILE OUTPUT: The nozzle system on the Wind Cannon is capable of 180° rotation and 65° pan and tilt. The nozzle can also be removed from the system for remote installation up to 15′.
CONTROL OPTIONS: The wind cannon can be ordered in two control configurations; Model 1000 – manually controlled or Model 1200 – computer controlled.
WARRANTY: Conditional, with one year on all parts.